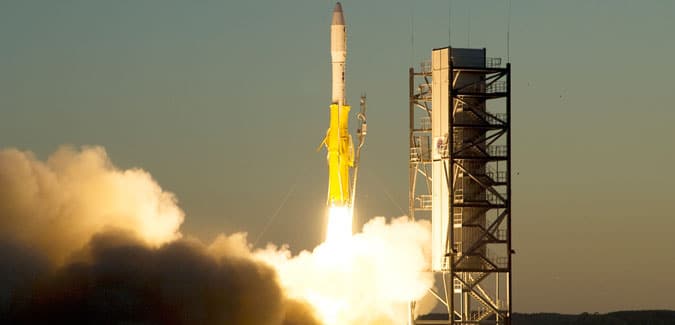 CORONA, CA – When the Goodrich Corporation needed to secure transportation for the Operationally Responsive Space (ORS-1) Satellite from Danbury, Connecticut to the launch site in Wallops Island, Virginia, they trusted VIP Transport, a specialized transportation agent for Mayflower Transit, to handle the job.
The ORS-1 satellite was launched into a 400-kilometer orbit, where it will circle the globe every 90 minutes and provide visible and infrared imagery to U.S. forces operating in the Middle East and Southwest Asia. The satellite system will provide color pictures of regions selected by ground force commanders, and use existing ground systems to process and distribute the images and other information out to the battlefield. The system is designed to support urgent military needs, while establishing a foundation that will advance the multi-mission modular approach required for future ORS satellites.
VIP and Goodrich collaborated for two years in preparing the requirements for moving the satellite, which included studying detailed diagrams of VIP Transport's specialized high cube climate control vans. Temperatures were consistently maintained inside the vans and VIP drivers, Jeff Crane and Ron Rossi, monitored the specialized tamper-deterrent seals on the trailers. Opening the trailer required special recording methods and witness verification. The successful transportation of this high security shipment also included escorts and follow cars to constantly monitor and protect the satellite. VIP drivers were required not to exceed 45 mph for minimal vibrations to the shipment.
"VIP understands the strict requirements for the transportation of these highly sensitive satellites and we were very proud that the Goodrich team trusted VIP to support this project," said Erica Ganey, Director of Business Development.
After a 30-day checkout period in its 400-km (250-mi.), 40-deg. orbit, all systems were verified as functioning and the ORS-1 was turned over to the U.S. Air Force 1st Space Operations Squadron.