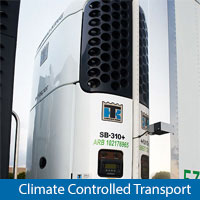 VIP Transport has been providing climate controlled wine transportation for over 30 years.
Whether you are moving an entire wine cellar or a smaller collection along with your household goods, our experienced wine movers can provide a safe, protective, and cost-effective service for the transportation of your wine.
VIP takes every precaution necessary for the preservation of your wine shipment or delivery.
We adhere to the following guidelines set forth by the research of wine experts on proper wine moving procedures:
Wine should be transported between 55-65 degrees: Maintaining the proper temperature is critical when shipping wine. It is crucial that wine be transported in climatic vans so that temperature levels can be controlled. Excessive heat can cause the wine to expand and push the cork out, causing the wine to spoil.
The wine's temperature should not fluctuate more than 5 degrees: Wine bottles that have undergone repeated temperature cycling tend to lose their quality. Acceptable fluctuation for wine is about 5 degrees.
Every step counts – wine transport requires careful packing: Our experienced wine shippers and packaging crew know the proper packing techniques to prepare the wine for transportation.
Ideal temperature for storing wine in shipment is 55 degrees: VIP Transport's warehouses are equipped with climatic-controlled storage rooms to keep your wine while moving. Temperatures are maintained inside these rooms to ensure the protection of your wine for your storage needs.
It is important during transportation to prevent excessive shaking to the wine:Although the wine is exposed to some shaking over the course of transport, it is very minimal due to our air-ride equipped vans. We also recommend that you lay your wine in a quiet area for a couple of weeks after delivery.
While we observe procedures carefully to ensure the proper transport of wine, there are also benefits to transporting wine with your household goods: With one of the largest climatic fleets in the industry, we are able to transport your wine collection together with your household goods in the same climate controlled van, eliminating long transit times and providing cost savings to shipping your wine and other goods separately.