We'd like to think we do a good job making customers happy
Please contact us directly if something isn't quite right, we'd like an opportunity to make it so.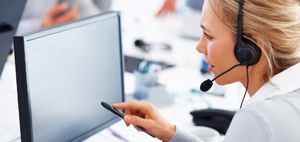 At VIP, we understand the stress of moving to a new city or transporting your valuable product across country.  We are dedicated to making the process as seamless as possible for our customers, their families and businesses.  If you have any concerns or have any special requests, please contact us.  We want to see if we can help you or solve the issue you may have.
Complex Question Bugging You?
Our well trained team is ready for what might seem very complex. To help us out, have as much information handy as possible so we can work through the problem together. Call us at 1.800.998.4847 to get started.
Although we take careful steps to ensure maximum protection of items during transit, sometimes unforeseen circumstances lead to damage during the transportation process. We sincerely apologize if this has occurred and we have a claims filing procedure to address the items affected.
Please do not discard any cartons or attempt to repair items on your own; this will void your claim. Please allow us the opportunity to inspect your claimed items, and we will settle it properly and promptly.
If you have any questions regarding our claim settlement policy, please contact our Claims Manager, Mindy Sanhamel, at msanhamel@viptransport.com .